About the Lab
The Living Lab for Health aims to increase the impact of R&I around complex health challenges through participatory system innovation processes.

We implement integral interventions through innovation networks
Living Lab for Health's mission is to facilitate multi-stakeholder innovation networks to solve complex and persistent health challenges and increase collective impact through methodologies of system innovation.
Living Lab for Health focuses on challenges that require knowledge integration and mutual learning. The aim is to design and implement integrated impact strategies by considering key leverage factors in different areas of a system (social, technological, R&I, physical space/environmental, economic, political, and institutional).
The Lab works with methodological frameworks aimed at increasing the impact of R&I, and carries out research to innovate in its methodologies and disseminate its work. The Living Lab for Health has the support of the "la Caixa" Foundation and of projects funded by the European Comission, such as CONNECT, FoodCLIC, FOSTER and CLEVERFOOD.
Two different categories of complex health challenges are addressed:
Prevention and health promotion challenges, such as healthy and sustainable food, affective and sexual health, mental health, and COVID-19 prevention.

Prevention, diagnostic, and therapeutic challenges, around diseases that have co-morbidities or require consideration of a wide range of factors, such as persistent COVID-19 or the development of immunotherapies.
It acts as a think-tank, i.e. a space where a wide range of experts participate in strategic reflection, learning, exploration, and co-creation of knowledge and integrated interventions.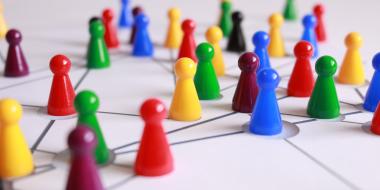 The diversity of participants varies according whether the health challenge addressed is scientific-technical or socio-technical, and includes experts from the academic and non-academic environment, including universities and research centres, healthcare services, social services, cultural centres, the educational community, the private sector, the third sector, public administration bodies, patients and citizens.
Focused on achieving its goals, the Living Lab of Health has accumulated more than 15 years of experience, endorsed by its participation in a wide range of competitive projects (12 funded by the European Commission) and by the training provided to more than 6,000 professionals, mainly from the academic sector.
All Living Lab for Health activities are possible thanks to the collective impact of a team of committed and motivated professionals: