Virus-Host Interactions (ViHIT)

The group focuses on defining cellular mechanisms that control the interface between nucleic acid metabolism and its detection by the immune system, and exploring how these processes influence onset and treatment of human diseases
Cellular and molecular bases of immune induction against chronic viral infections.
Viruses often exploit common cellular pathways and processes to successfully replicate inside host cells. The group researches in-depth characterization of innate immune function as a strategy to develop novel broad-spectrum therapeutics, and, to date, has described the regulatory pathways and antiviral immune response of two key enzymes in nucleotide metabolism: SAMHD1, responsible for the degradation of deoxynucleotide triphosphates, and ADAR1, responsible for editing adenosines to inosines in double-stranded RNA. Agents have also been identified capable of modifying their enzymatic activity directly or indirectly through cell cycle regulation, leading to the description of novel regulatory pathways controlling HIV latency. The research includes all stages of development, ranging from identification and validation of new targets to the monitoring of drugs approved for treatment. Once validated, the cellular factors potentially become targets for the development of new antiviral therapies.
Since April 2020, ViHIT has also focused on understanding SARS-CoV-2 infection and pathogenesis, and has developed a method for the quantification of SARS-CoV-2 viral load in COVID-19 patients. Ongoing work is focused on elucidating the role of the innate immune response in COVID-19 pathogenesis and on deciphering and characterizing early events that might determine infection outcomes, with particular interest in cellular proteins that may lead to the development of new therapeutic strategies against SARS-CoV-2 infection.
Immune function as a biomarker of response to cancer treatment.
The mechanisms that control the interface between nucleic acid metabolism and detection by the immune system also determine cancer onset and treatment. Description of the effect of SAMHD1 on the therapeutic efficacy of antimetabolites used for cancer treatment, both in vitro and in vivo, has identified SAMHD1 as an effective prognostic and predictive factor. As a result of the group's discovery of CDK-mediated regulation of the SAMHD1 function, a prospective study has been implemented to determine immune function role in treatment response to CDK4/6 inhibitors. Within this framework, a new multidisciplinary research subgroup composed of medical oncologists, pathologists, and translational researchers at distinct career stages was created in order to explore and better understand the impact of immune function on cancer. Based on expertise gained in the context of viral infections, ViHIT is interested in unravelling the range of systemic immune perturbations that occur during tumour development, and the crucial contribution of peripheral immune cells to antitumor immune response.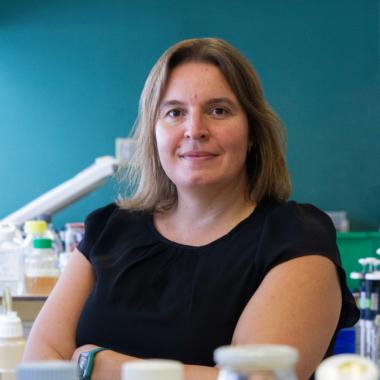 Principal investigator
Ester Ballana Guix
Dr. Ester Ballana graduated in Biology from Universitat Autònoma de Barcelona (UAB) in 2001 and obtained her PhD in Health and Life Sciences from Center for Genomic Regulation (CRG)- Universitat…
Go to profile