IrsiCaixa researcher Javier Martínez-Picado, new elected member of the Royal Academy of Sciences and Arts of Barcelona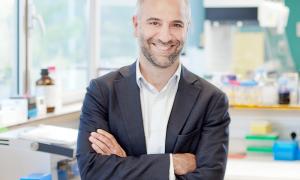 The Academy, founded in 1764 to carry out the functions of the study of sciences, highlights the doctor's research work in the field of immunovirology and elects him as a member
Sharing and debating the knowledge generated by the scientific community has always been a key element in the history of science. The Royal Academy of Sciences and Arts of Barcelona was founded in 1764 with this same objective, to bring together the Catalan scientific community and discuss scientific advances taking place around the world. Now, the Academy has elected IrsiCaixa researcher Javier Martínez-Picado as a member. The doctor, who is also a professor at the Catalan Institution for Research and Advanced Studies (ICREA) and a member of the Chair of Infectious Diseases and Immunity at the University of Vic-Central University of Catalonia (UVic-UCC), has been chosen for his extensive work in the field of immunovirology. Specifically, Martínez-Picado has a long academic career in the field of HIV/AIDS and other infectious diseases, leading the Retrovirology and Clinical Studies research group at IrsiCaixa.
His scientific interests currently focus on the study of immune and virological mechanisms related to human viral diseases, including HIV-1, Ebola virus, Arenaviruses and, more recently, SARS-CoV-2. His scientific programme aims at translating research to the patient, and seeks to investigate new therapeutic strategies against viruses, especially in the field of HIV/AIDS, through both basic and applied research. The team collaborates closely with other national and international research centres to achieve the highest impact in its research areas: HIV care, the study of viral pathogenesis and the characterisation of viral infection profiles that follow exceptional disease progression. In the wake of the COVID-19 pandemic, it has expanded its research into the pathogenesis of SARS-CoV-2, implementing organoid models to assess viral infection and inflammatory responses.
As an elected member, Martínez-Picado will soon hold the public entrance session in which he will read a speech in order to be named a full member of the Royal Academy of Sciences and Arts of Barcelona. "Being part of the Academy and being one of its members, together with colleagues from the scientific world whom I admire and for whom I have great respect, is an opportunity to highlight all the collaborative work we have achieved with the team in the field of immunovirology", says Martínez-Picado, who also adds "it is a good boost to continue working to advance science in a collaborative, equitable and innovative way".