Post COVID-19
Epigenetics
An IrsiCaixa project to study Long Covid, one of the 9 Catalan proposals selected by the CaixaResearch call for Health Research 2022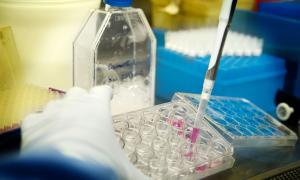 The fifth edition of the CaixaResearch call for Health Research 2022 will promote 33 new cutting-edge biomedical research projects in Spain and Portugal, to which it grants aid of up to one million euros
The CaixaResearch call for Health Research 2022 has selected 33 new promising biomedical and health projects in research centers and universities in Spain and Portugal. To this end, "la Caixa" Foundation is providing a total of 23.1 million euros to these projects, which must be developed over the next three years. In this edition, nine projects led by researchers from Catalan research centers have been awarded, including the one coordinated by ICREA researcher at IrsiCaixa Christian Brander, whose objective is to decipher the epigenetic mechanisms –that is, the modifications that control the expression of the genome– involved in Long Covid.
Towards a cure for Long Covid
One out of 10 people who undergo COVID-19 still have symptoms months after infection. This condition is known as Long Covid and may be associated with severe neurological impairments such as memory loss, decreased ability to concentrate, or the onset of a state of mental fogginess.
Although the reason for the persistence of symptoms is not yet known, several studies suggest that one of the possible causes could be an alteration at the epigenetic level, that is the mechanism that acts as a switch for genes.
To decipher the role of epigenetics in Long Covid, the scientific team led by ICREA researcher at IrsiCaixa Christian Brander will assess whether there are alterations at this level and, at the same time, characterize possible neurological and immune system alterations. As with HIV, the IrsiCaixa research team highlights that SARS-CoV-2 infection could be causing changes at the epigenetic level and, thus, could be activating and deactivating genes that have the potential to alter the response of the patient's immune system and cause neurological alterations.
Thus, the project, endowed with almost one million euros and carried out in collaboration with the Fight Against Infections Foundation, the Institute of Agri-Food Research and Technology IRTA and the National Center for Genomic Analysis (CNAG-CRG), will identify the key affected genes involved in Long Covid. To this end, they will use an animal model of COVID-19 and will test new therapeutic strategies to reverse epigenetic dysregulation.