HIPRA's COVID-19 vaccine, developed with the scientific support of IrsiCaixa, receives a positive opinion from the European Medicines Agency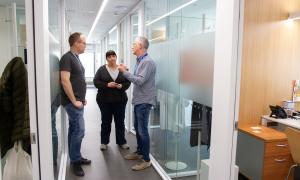 BIMERVAX® is recommended as a booster dose in persons over 16 years of age who have been previously vaccinated with a COVID-19 mRNA vaccine
Last Thursday, March 30, the Committee for Medicinal Products for Human Use (CHMP) of the European Medicines Agency (EMA) recommended BIMERVAX®, HIPRA's COVID-19 vaccine, as a booster dose in persons 16 years of age and older who have been previously vaccinated with a COVID-19 mRNA vaccine. It is a bivalent adjuvanted vaccine containing a recombinant protein based on the Beta and Alpha variants of SARS-CoV-2.
The EMA has concluded that it now has sufficiently robust data on the quality, safety and immunogenicity of the vaccine to recommend its marketing authorization in the EU.
The main trial conducted with BIMERVAX® compared the immune response triggered by the HIPRA vaccine with that triggered by the Comirnaty mRNA vaccine. Following the results, the EMA has concluded that the benefits of the HIPRA vaccine outweigh its risks and recommends the granting of a standard marketing authorization in the EU.
Technology transfer from IrsiCaixa to HIPRA
IrsiCaixa, as a reference center in virology and immunology, has contributed to the development of BIMERVAX® by transferring part of its technological platform to the HIPRA team to make possible the monitoring of the new COVID-19 variants.
The work carried out at IrsiCaixa in close collaboration with HIPRA has brought very positive results. "We are proud to say that our technology successfully performs a quantitative and qualitative analysis of the immune response after receiving a booster dose of BIMERVAX®", celebrates the IrsiCaixa research team. On the other hand, within the framework of the European RBDCOV project led by HIPRA and formed by hospitals, research centers and entities from different European countries, including IrsiCaixa, the vaccine is being studied as a booster dose for immunocompromised people and, shortly, studies will also begin in children and adolescents under 16 years of age.