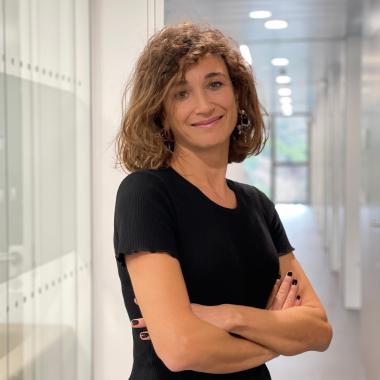 Alessandra Borgognone
Senior research scientist
Team
Alessandra Borgognone graduated in Biology from the University of Florence (Italy) in 2009, having also attended the University of Granada (Spain) in 2008 as part of the Erasmus mobility programme. She completed her MSc in Health Biology at the University of Bologna (Italy) in 2012.
In 2013 she joined the Genetics and Microbiology Group attached to the Public University of Navarre (Spain) to pursue a PhD, publishing, in 2017, her thesis characterizing transposon activity and exploring epigenetic regulation in relation to overall transcription levels at different stages of development of the basidiomycete fungus Pleurotus ostreatus. During her PhD studies she participated in international stays in the USA and Germany: at the University of California-Los Angeles (UCLA), where she focused on bioinformatic analysis of next-generation sequencing data for methylation and transcriptomics (small non-coding-RNA and mRNA), and in the Microbiome Group at the Molecular Biology Clinical Institute (IKMB) in Kiel, where she focused on developing an experimental method and bioinformatics analysis of the intestinal microbiome by means of 16S rRNA sequencing, paying particular attention to a strategy for chemical pre-treatment of biological samples. She subsequently spent some time in the bioinformatics company Sequentia Biotech, where she worked on developing a biological database for metagenomic analysis.
In November 2018 she joined the Microbial Genomics Group in IrsiCaixa in order to conduct post-doctoral research, where, using the latest generation sequencing technologies and multi-omics data integration, she is exploring the role of the intestinal microbiome in the immunopathogenesis of HIV infection and its impact on therapeutic strategies for reducing the HIV reservoir.