Elena Capel rep el Premi Extraordinari de Doctorat en Microbiologia de la UAB per una tesi realitzada a IrsiCaixa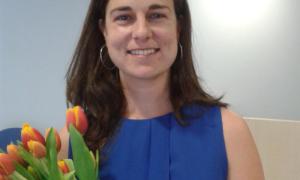 La Doctora en Biologia Elena Capel ha rebut el Premi Extraordinari de Doctorat de la Universitat Autònoma de Barcelona en l'àmbit de Microbiologia, per una tesi realitzada a l'Institut de Recerca de la Sida IrsiCaixa i dirigida per Miguel Ángel Martínez, cap del grup de Variabilitat Genètica del VIH i del VHC. El títol de la seva tesi va ser Evolution of the HIV-1 protease and integrase: effects on viral replication capacity and robustness.
Capel va dedicar el seu doctorat a explorar la diversificació genètica del VIH al llarg del temps i el seu impacte en els gens de la proteasa i de la integrasa, que són dos importants dianes de la teràpia antiretroviral. Per aconseguir-ho, va analitzar seqüències de mostres de pacients infectats pel VIH a principis dels anys 90 i les va comparar amb mostres infectades en els anys 2007 i 2008. En cap dels dos casos, els pacients no havien rebut tractament antiretroviral en el moment de l'extracció de les mostres. L'objectiu de l'estudi era estudiar com el VIH, sense haver estat sotmès a la pressió selectiva dels antiretrovirals, havia diversificat de manera natural durant aquell interval d'anys, i comprovar si aquesta diversificació afectava a la capacitat replicativa del virus.
Després d'estudiar Biologia a la Universitat de València, Capel va realitzar un màster en Recerca Biomèdica a la Universitat Pompeu Fabra. Va arribar a IrsiCaixa l'any 2007 gràcies a una beca FIPSE, va cursar la primera edició del Màster en Patogènesi i Tractament de la Sida i es va doctorar l'any 2013. Actualment treballa a l'equip de Patogènia de les Infeccions Sistèmiques a l'Institut Necker Enfants Malades de París, on investiga la principal bactèria causant de la meningitis bacteriana, Neisseria meningitidis, també coneguda com a meningococ. L'objectiu del seu projecte és emprar tècniques de seqüenciació massiva per descobrir nous factors de virulència que permeten a aquesta bactèria infectar a les persones.