New immunotherapeutic strategy to treat T-cell acute lymphoblastic leukemia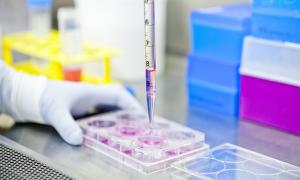 The study uses genetically modified immune cells that specifically target the CD1a molecule of the tumour cells, suggesting a new treatment with less adverse effects for patients
The T-cell acute lymphoblastic leukaemia (T-ALL) is a haematological cancer that affects T cells and it has high mortality rates both in children and adults. There is not a targeted therapy to treat this disease, thus the only options are stem cell transplantation or conventional chemotherapy, which are associated with high toxicity. Now, researchers from IrsiCaixa have participated in a project, led by the Josep Carreras Research Institute (IJC), that suggest a new targeted therapy with less adverse effects to treat T-ALL patients.
The study, published in the Blood Journal, uses the CD1a molecule as a target to eliminate specifically tumour cells through immunotherapy. This immunotherapy consists on reprogramming immune T cells so that they express a receptor that guides them to the tumour cells, leading to the specific death of the cancerous cells. The challenge in the case of the T-ALL is the difficulty to find a specific molecule of tumour cells and the risk of adverse effects, such as immunodeficiency.
The Viral Immune Evasion and Vaccines group from IrsiCaixa, led by Julia García Prado, has collaborated with the Stem Cell Biology, Developmental Leukemia and Immunotherapy group from the Research Institute Josep Carreras, in order to minimize the adverse effects of the therapy. According to García Prado, this study demonstrates in mice and human cells that the CD1a molecule is a good target to eliminate specifically tumour cells. "This is how we managed to avoid the toxicity and immunodeficiency that were usually associated with the treatment in this kind of cancer", explains.
"Thinking on the future application of the therapy to patients, we have assured that the modified lymphocytes maintain the response to the most common viruses and, therefore, they would not entail immunodeficiency", adds García Prado, principal investigator of the Viral Immune Evasion and Vaccines group at IrsiCaixa and scientific director at Germans Trias i Pujol Research Institute.
Considering all these promising results, the researchers plan to initiate a Phase I Clinical trial to assess the safety of the therapy in patients. "The targeted therapies are of main importance for the treatment of cancer, especially in cases like T-ALL, in which there isn't an effective targeted therapy", emphasizes Garcia Prado.